Will Samsung J3 Work with a 5G Network?
The first 5G capable gadget entered the market in 2019, and as of 2022, the network has become popular and primarily accepted worldwide. Depending on the specification, the network promises better data speeds that are at least 100 times that of 4G. A few top smartphone manufacturers, such as Samsung, use 5G in their mobile gadgets to ensure speed and efficiency.
---
Since the 5G network started in 2019, Samsung galaxy has had no capability of using the web since the recent model- galaxy J3 pro in 2018. Additionally, Samsung has a particular policy where they manufacture a phone and then give it a software upgrade after 3 years and then replace it with a better version.
---
Is Galaxy J3 4G or 5G?
The Samsung J3 cannot support a 5G network since it has models created in 2016 and 2017. Since the 5G network hit the market in 2019, the Samsung J3 and its variants can only use 4G, 3G, and 2G networks. It is possible to switch Samsung J3 to different networks up to 4G.
Since I use the Samsung J3 2017 model, I can change from 3G to 4G network by choosing settings, then going to connection options, navigating, and then picking mobile networks. Then, press the network mode option and select the network you want to switch to.
Is Samsung J3 4G Enabled?
Samsung Galaxy J3 and its variants can access a 4G network that supports LTE. Additionally, its data saving option allows it to reduce 4G usage by up to 50% by preventing background programs from using extraneous data and data compression. The network helps the phone to support wireless internet, quick video download, and other interactive multimedia.
Additionally, it also makes the bit cost low while still maintaining high speed and capacity. the advantage of this smartphone is that you can change the network from 3G to 4G and vice versa depending on the network accessibility of the area, among other factors.
Which Samsung phones are 5G compatible?
The 5G network, which offers lightning-fast connectivity, is the next generation of data speed. The first Samsung smartphone to have 5G capabilities is the Samsung Galaxy 10.
Recently, the galaxy s10 variants, such as the s20, s20+, and s20 ultra, use the 5G network. Additionally, if your region does not support using 5G yet, buying a Samsung galaxy note and its variant will allow you to access the network.
The network speed also varies depending on the nation, the carrier, and the user's situation. The 5G enables these devices to provide more users with faster multi-Gbps peak data rates, extremely low latency, enhanced reliability, vast network capacity, and a more consistent user experience.
Is the Samsung J3 Still Supported?
Typically, Samsung provides a maximum of 3 years of software updates for its flagship smartphones, 2 years for its entry-level, mid-range and budget models, and a period of 1 year for its budget models. The tech company will therefore stop offering android security upgrades for Samsung J3 variants that have 3 years of service from their manufacturing date since the recent versions of Samsung Galaxy J3 are in 2018, which means that the company will no longer manufacture these devices.
For this reason, the phone will get a replacement with a better version or variant that has additional features and supports a 3G and 4G network. For instance, since the Samsung galaxy a10 is the better version of the J3, it has improved features such as longer battery life and more effective management that automatically shuts down background programs to provide adequate power.
What Year is my Samsung Galaxy J3
I have been using the Samsung J3 model 2017 for a long and its android software upgrades once every 3 years. Recently, Samsung released a new software update in April 2021 that features security and bug updates. According to Samsung's release, the update contains 23 improvements in addition to more than 30 patches for bugs in the original android code from google.
If you have a Samsung phone and want to find its manufacturing date, you can use its serial number or dial code. You can also look up the phone's activation code, which makes it simple to determine how old it is and whether a warranty covers it. Therefore, you need to know the android secret codes that enable you to execute diagnostic checks and access more details about your smartphone.
When you want to access the manufacturing date of your phone, use your phone application to open your production code by dialling *#12580*369#. The manufacturing date will be present on the phone. The code may not function in 2016 models. In such a situation, you can dial *#197328640#*. Then, tap the version info on the menu, select the version of your phone, and then hit read cal date on the following screen.
Alternatively, you can also use the time to determine the manufacturing date of your device. You can use two ways to determine your device's identity code; on your device, launch the dialer app and enter *#06#. Then, go to the settings options and select about the phone. Option 2 is to visit the IMEIs website. Once you have the IMEI code for the device, enter the code of your device and then press the check button. The site will provide your Samsung devices manufacturing date with other details.
Samsung Smartphones not Compatible With 5G
Most of the older Samsung models manufactured before 2018 cannot access the 5G network. The only recent Samsung smartphone model that has no 5G capabilities is the Samsung flip and some of its variants. They can only use 4G and 3G networks. If you are unsure whether your Samsung smartphone can support 5G, check its specifications online.
You can use GSMarena, which includes a section of photos, customer feedback and review, other phone comparisons, and thorough information on smartphone specifications. Visit the website and type the mode of the smartphone into the search field. The detailed specifications will appear, and the site will inform on whether your phone has 5G capabilities or not by looking under the "network field". View the 5G bands by clicking on "expand'.
Wrapping it Up
Samsung is one of the many companies that has effectively implemented a 5G network in their smartphone devices to ensure the most excellent performance, even if the network is still in the early stages of rollout.
However, when upgrading 3G or 4G smartphones to 5G, not every smartphone has 5G capabilities. Samsung J3, for instance, can only access a 4G network since its manufacturing period is far from the day 5G use became effective. Additionally, there are different ways to check if you can change galaxy J3 from 4G to 5G and if it has the capabilities.
---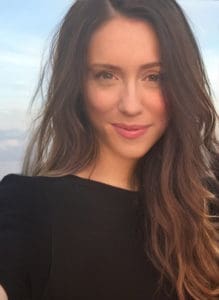 This article is written by…
Courtney Marie Stenton
Courtney is our expert in fashion and gadgets. With a degree in computer science, she's always had a nag for nerdy topics.
---